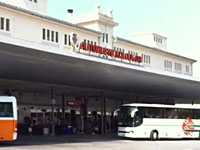 All intercity and international bus travel departs from and arrives at the Main Bus Station, located in Gruž Port in Dubrovnik. The distance to Old Town Dubrovnik is about 3km, regular local buses will take you there or to other areas of Dubrovnik. There is also a taxi station right in front of the bus terminal.
Other tourist services available at the bus station include a tourist information centre, waiting room, luggage storage, public telephones, ATM machine and a kiosk.
In case you need to pick up supplies there is a good supermarket Konsum nearby.