Dubrovnik Cabrio Bus City Tour
Enjoy a 2 hour panoramic drive featuring Dubrovnik highlights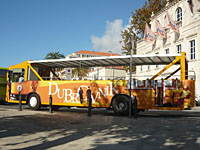 The Dubrovnik Cabrio City Tour offers a 2 hour panoramic tour of Dubrovnik, including panorama views over Old Town Dubrovnik in the east and stopping at Dubrovnik Bridge in the west. On the bus there are headphones enabling you to follow the tour highlights in nine languages.
Price per person: 60 kuna
Price for group of 5 persons: 250 kuna
Free for children up to 6 years of age
Note: The buss does not run in the case of poor weather. Payment only in Croatian Kuna, no credit cards or foreign currency.
COMPLETE TIMETABLE

TIMETABLE VALID
15.07.2018. - 15.08.2018.

Pile Gate (Old Town Dubrovnik)

9:00

10:50

12:40

14:30

16:20

18:10

20:00

Vidikovac

9:15
11:05
12:55
14:45
16:35
18:25
20:15

Dubrovnik Bridge

9:40

11:30

13:20

15:10

17:00

18:50

20:40

Main Bus Station

10:05
11:55
13:45
15:35
17:25
19:15
21:05

Hotel Lapad

10:15
12:05
13:55
15:45
17:35
19:25
21:15

Hotel President

10:20
12:10
14:00
15:50
17:40
19:30
21:20

Post office Lapad

10:25
12:15
14:05
15:55
17:45
19:35
21:25

Hotel Lero

10:30
12:20
14:10
16:00
17:50
19:40
21:30

Ilina Glavica

10:35
12:25
14:15
16:05
17:55
19:45
21:35

Hotel Argentina

10:40
12:30
14:20
16:10
18:00
19:50
21:40

Ploče Gate

10:45
12:35
14:25
16:15
18:05
19:55
21:45

Pile Gate (Old Town Dubrovnik)

10:50
12:40
14:30
16:20
18:10
20:00
21:50

COMPLETE TIMETABLE

TIMETABLE VALID
01.03.2018. - 01.11.2018.

Pile Gate (Old Town Dubrovnik)

9:00

10:50

12:40

14:30

Vidikovac

9:15
11:05
12:55
14:45

Dubrovnik Bridge

9:40

11:30

13:20

15:10

Main Bus Station

10:05
11:55
13:45
15:35

Hotel Lapad

10:15
12:05
13:55
15:45

Hotel President

10:20
12:10
14:00
15:50

Post office Lapad

10:25
12:15
14:05
15:55

Hotel Lero

10:30
12:20
14:10
16:00

Ilina Glavica

10:35
12:25
14:15
16:05

Hotel Argentina

10:40
12:30
14:20
16:10

Ploče Gate

10:45
12:35
14:25
16:15

Pile Gate (Old Town Dubrovnik)

10:50
12:40
14:30
16:20
---
---