Dubrovnik Airport
Dubrovnik Airport Čilipi, departures and arrivals, virtual tour, operating hours and facilities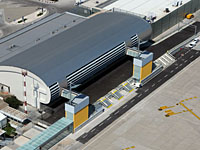 Dubrovnik Airport (DBV) is located at Cilipi, 22km southeast of Dubrovnik Old Town center and about 3km from Cavtat. (see map). Airport facilities include shops, refreshments, coffee shop, snack bar, VIP lounge and business lounge, currency exchange , ATMs, Bank and Duty-Free shop.
If you have time at the airport be sure to check out the latest attraction, the Đurović cave, situated directly under the runway of Dubrovnik airport. For opening hours ask the information desk.
Arriving in Dubrovnik
Travellers arriving on a scheduled flight to Dubrovnik need to pass through passport control first. After picking up your luggage step outside of the arrival terminal and the Airport Shuttle Bus will be parked alongside the building. It leaves the airport after most or all passengers have cleared the arrivals area. Tickets are bought on the bus, the cost of the airport transfer is 35 Kuna. After leaving Dubrovnik Airport it first stops at Pile Gate in front of Old Town Dubrovnik, continuing afterwards to the Dubrovnik Main Bus Station in Gruž Port.
Transfer to Dubrovnik
Beside taking the shuttle bus you can also take a taxi at the airport, the taxi station is just outside of the Arrivals Terminal. Standard fare from Dubrovnik Airport to Dubrovnik centre is usually 250 Kuna. There are also regular public busses that pass and stop at the airport, but we recommend that you choose one of the 2 options above. If you would like us to organise your transfer from / to the airport to any destination please contact us for a quote.
Dubrovnik Airport Shuttle Bus Timetable
Important notice: The airport shuttle bus will be stopping at the following bus stations: Main Bus Station in Gruž Port, old main bus station in Gruž, Cable Car station (above Old Town Dubrovnik) and bus stations at Srebreno and Plat.
Friday, 10.2.2017

Departures from Dubrovnik
5:10, 9:00, 11:50, 14:45
Saturday, 11.2.2017

Departures from Dubrovnik
5:10, 11:50, 14:40
Sunday, 12.2.2017

Departures from Dubrovnik
5:10, 9:45, 11:50, 14:30, 17:55, 20:20
Monday, 13.2.2017

Departures from Dubrovnik
5:10, 10:25, 11:50, 14:40
Maybe you prefer to enjoy smooth, friendly and hassle-free private transfer service from and to Dubrovnik Airport, available 24 hours a day, 7 days a week. Meet and greet by a professional driver, the price is the same for groups of 1 to 4 and 5 to 8 people. For larger groups we can arrange special discounts.
Pre-reserved private transfers from and to Dubrovnik Airport - safe, convenient and reliable
Let us make your journey from Dubrovnik airport as easy and comfortable as possible.
Arrange your transfer to Dubrovnik airport. You can arrange your Dubrovnik airport taxi quickly and easily, and you can rest assured that one of our English-speaking drivers will be ready at arrival to take you straight to your resort with no waiting around. Request a quote and contact us at This email address is being protected from spambots. You need JavaScript enabled to view it.
If you plan to rent a car in Croatia and pick it up at Dubrovnik Airport be sure to check the Dubrovnik Car Rental Section
Flight schedule off all flights arriving at Dubrovnik Airport today

Flight schedule off all flights departing from Dubrovnik Airport today

Virtual Tour of Dubrovnik Airport
---
---
Parking at Dubrovnik Airport

Parking up to 15 min - FREE
15 min-1 hour - 5 kn


1-2 hours - 10 kn
2-4 hours - 15 kn
4-12 hours - 20 kn

12-24 hours - 40 kn
every next hour - 2 kn
lost ticket - 300 kn


Operating hours

Reference times Summer season:
04:00-21:00 UTC
Winter season: 05:00-21:00 UTC

Airport operating hours
From 4,00 till 21,00 UTC
On request 24 hours with approval of aerodrome operator

Passport and Customs Control
According to Airport opening hours.




Cargo Warehouse

For Domestic and International cargo traffic Cargo registration
Airport Cargo Dept.
Tel: +385 20 77 33 74
Tel./Fax. +385 20 77 33 75



Cargo Warehousing
Airport Cargo Warehouse
Tel: +385 20 77 33 74
Tel./Fax. +385 20 77 33 75



Forwarding Agent
Services "Annimi Commerce"
Tel: +385 20 77 32 82



Technical Data

Telefax: +385 20773322
e-mail: This email address is being protected from spambots. You need JavaScript enabled to view it.
IATA identification code: DBV
SITA adress: DBVAPXH

Switchboard: +385 20 773 333
Director: +385 20 773 222
Information: +385 20 773 100
Commercial: +385 20 773 233

AFTN address: LDDUYDYX
ARO+METEO:+385 20 773 203
ICAO Airport classification: 4E



Bank / Exchange / Information desk

OTP bank - working day 08:00 - 14:00
Sat 08:00 - 12:00, Sun 08:00-14:00

Exchange office 06:30 - 24:00
Exchange office Exchange Corporation - working hours 6:00-22:00.

Workign time: 05:00 - 22:00
Phone +385 20 773 100



Timetables for the Dubrovnik Airport Bus transfer change daily, depending on the flight schedule. The service provider makes them usually available one or two days in advance.

Timetable for all city buses in Dubrovnik

Dubrovnik City Bus routes, map of Dubrovnik's bus network

Website: https://www.airport-dubrovnik.hr