Dubrovnik Cable Car info and prices
Take a cable car ride to the peak of Srđ mountain and enjoy breathtaking panoramic views of Old Town Dubrovnik and Island Lokrum.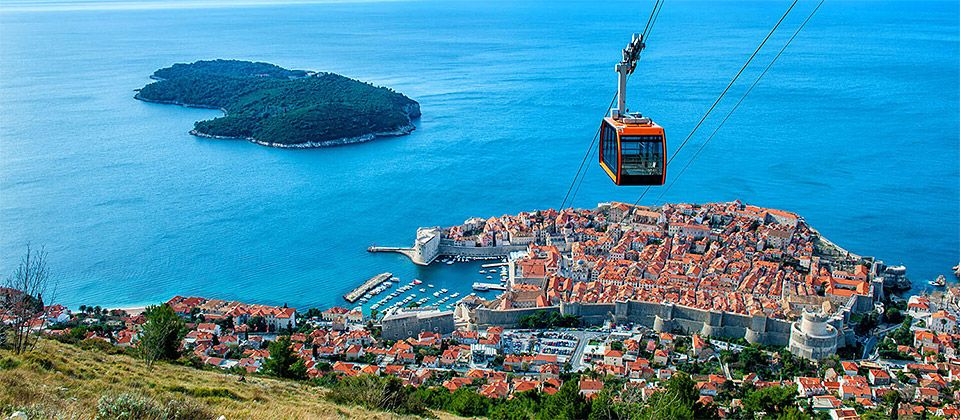 Credit: https://www.dubrovnikcablecar.com
Dubrovnik Super Saver:
Cable Car Ride and Old Town Walking Tour plus City Walls
Join us on an unforgettable journey through the stunning city of Dubrovnik, known for its architectural marvels and a historical background that bursts with richness. Explore the narrow and winding streets of the UNESCO World Heritage Site Old Town, where magnificent buildings from centuries past stand tall. Admire the breathtaking views from the 16th-century city walls and elevate your experience with a cable car ride to Mt. Srd for panoramic views of the city.
Delve into Dubrovnik's rich history all while being guided by a knowledgeable tour expert. Book your tour now and immerse yourself in the beauty and history of Dubrovnik.
Insider's tip
Amazing views of the Adriatic sea, Old Town Dubrovnik, Island Lokrum and the surrounding Elaphiti islands Koločep, Lopud and Šipan. The top of Srđ mountain is the ideal spot for photos, the best time being around sunset. A (rather pricey) restaurant, café and souvenir shop are also available to visitors at the upper Cable Car station and Fort Imperial.
Location
The cable car departs from a lower station just outside of the eastern entrance to Old Town Dubrovnik. There are two carriages, each carrying up to 30 people, making regular three-minute runs to the top of Mount Srđ.
Walk up the stairs from Stradun (towards Buža gate), and from there walk across the parking lot "Iza Grada" towards the stairs below the cable car station. For visitors arriving from cruising ship docked in Dubrovnik Port the easiest way to reach the Cable Car is by taking local bus Nr. 8 or taxi.
Service & facilities
Dont miss a visit to the Museum Dubrovnik in Homeland War where original documents, art and documentary photographs from the Homeland War, authentic photographs and video material are on display. The Fort on the top is called Fort Imperial and was built by Napoleon and finished precisely on his birthday.
Panorama Restaurant & Bar
Amphitheatre
Ohrid Pearl Shop

Coin Blacksmithing Shop
Museum Dubrovnik in Homeland War
Hiking Trail
Credit: https://www.dubrovnikcablecar.com
Prices and Timetable
| | |
| --- | --- |
| adult round-trip ticket | 26,54 Eur |
| adult one-way ticket | 14,60 Eur |
| children round-trip ticket (4 - 12 years) | 6,64 Eur |
| children one-way ticket (4 - 12 years) | 3,98 Eur |
| children up to 4 years of age | free of charge |
The most convenient way of buying tickets is directly at the cable car stations. Payments can be made in Euro and by credit cards. Foreign currencies can not be accepted.
| | |
| --- | --- |
| January | closed |
| February | closed |
| March | closed |
| April | 09 h to 21 h |
| May | 09 h to 23 h |
| June | 09 h to 24 h |
| July | 09 h to 24 h |
| August | 09 h to 24 h |
| September | 09 h to 24 h |
| October | 09 h to 20 h |
| November | 09 h to 17 h |
| December | 09 h to 16 h |
If the speed of the wind exceeds the safety threshold on any part of the cable car route, the cable car will stop until the wind speed reduces. In the case of possible lightning, the cable car will temporarily cease operations.
Family-friendly?
Yes.
Petra Krešimira IV bb, 20000 Dubrovnik
Website: Dubrovnik cable Car
You might also be interestred in: Some of the most popular day trips from Dubrovnik