Dubrovnik Summer Festival (2018 Programme)
Dubrovnik Summer Festival is recognised as the main summer event in Dubrovnik, and as one of Europe's five most distinguished cultural festivals.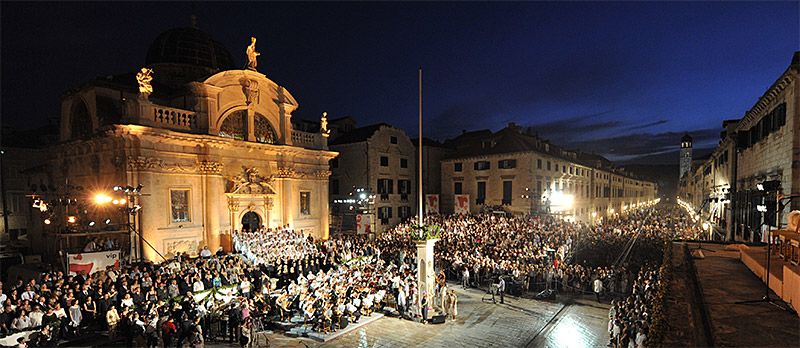 The annual Dubrovnik Summer Festival is held at various open-air locations in and around Old Town Dubrovnik, featuring performances of music, theatre and dance and other cultural events.
The programme of the 69 Dubrovnik Summer Festival, which traditionally takes place from 10 July to 25 August in around twenty site specific venues of Dubrovnik. Premiere plays include Miroslav Krleža's Michelangelo Buonarroti, a coproduction with the Ivan von Zajc Croatian National Theatre of Rijeka, directed by Sebastijan Horvat on the Island of Lokrum.
The 69th Dubrovnik Summer Festival Theatre Programme also features international guest performances and Croatia's finest most recent productions. Ballet art lovers will have the opportunity to enjoy one of last year's most intriguing projects, Death and the Dervish, produced by the Ballet of the Croatian National Theatre of Split, choreographed by Igor Kirov after libretto by Saša Dimoski based on motifs of Meša Selimović's work of the same name, while the music was composed by Goran Bojčevski.
Programme | 69. Dubrovnik Summer Festival
FESTIVAL OPENING CEREMONY
10. JULY / TUESDAY / 21:00

In front of St. Blaise Church
Mischa Maisky, cello | Pier Carlo Orizio, Conductor | Zagreb Philharmonic
Music
11. JULY / WEDNESDAY / 21:30

In front of St. Blaise Church
KATONA TWINS
Music
12. JULY / THURSDAY / 21:30

Vala Beach Club, Hotel Dubrovnik Palace
Exhibition Opening | JOSIP PINO TROSTMANN
Exhibition
13. JULY / FRIDAY / 21:00

Sponza Palace Atrium
ROSAS | A Love Supreme
Dance
14. JULY / SATURDAY / 21:30

Revelin Fort Terrace
IVAN KRPAN, piano
Music
15. JULY / SUNDAY / 21:30

Rector's Palace Atrium
K. Novak / T. Zajec: BLACK MOTHER EARTH
Theatre
16. JULY / MONDAY / 21:30

Island of Lokrum
LINĐO FOLKLORE ENSEMBLE
Dance
17. JULY / TUESDAY / 21:30

Revelin Fort Terrace

04. AUGUST / SATURDAY / 21:30

Revelin Fort Terrace

13. AUGUST / MONDAY / 21:30

Revelin Fort Terrace

20. AUGUST / MONDAY / 21:30

Revelin Fort Terrace
Dee Dee Bridgewater | Croatian Radio and Television Jazz Orchestra | Andreas Marinello, conductor
Music
18. JULY / WEDNESDAY / 21:30

In front of Cathedral
Yuya Okamoto, cello | Robert Kulek, piano
Music
19. JULY / THURSDAY / 21:30

Rector's Palace Atrium
MARIN DRŽIĆ – VICTORY OVER THE ENEMIES
Theatre
20. JULY / FRIDAY / 21:30

Art School Park

21. JULY / SATURDAY / 21:30

Art School Park

22. JULY / SUNDAY / 21:30

Art School Park

23. JULY / MONDAY / 21:30

Art School Park
Schumann Quartet
Music
22. JULY / SUNDAY / 21:30

Rector's Palace Atrium
"Grand Golden Arena" Award Winning Film
Performances
23. JULY / MONDAY / 21:30

Jadran Open-air Cinema
LADO – National Folk Dance Ensemble of Croatia
Dance
24. JULY / TUESDAY / 21:30

Revelin Fort Terrace
Dubrovnik Symphony Orchestra | Oratory Choir of St Mark's Church | Maxim Emelyanychev, conductor | Soloists: Leon Košavić, Ivana Lazar, Marija Kuhar Šoša, Krešimir Špicer
Performances
25. JULY / WEDNESDAY / 21:30

Franciscan Church
BITEF Theatre | MACBETH
Performances
26. JULY / THURSDAY / 21:30

Revelin Fort Terrace
Miroslav Krleža: MICHELANGELO BUONARROTI
Premiere
27. JULY / FRIDAY / 21:30

Island of Lokrum

28. JULY / SATURDAY / 21:30

Island of Lokrum

29. JULY / SUNDAY / 21:30

Island of Lokrum

30. JULY / MONDAY / 21:30

Island of Lokrum

31. JULY / TUESDAY / 21:30

Island of Lokrum
Stefan Milenkovich Violin Master Class Final Concert
Music
29. JULY / SUNDAY / 21:30

Bunić Caboga Summer Villa
Vincent Peirani, accordion | Emile Parisien, saxophone
Music
31. JULY / TUESDAY / 21:30

Vala Beach Club, Hotel Dubrovnik Palace
COUNTDOWN - at a wedding with Držić and Nalješković
Premiere
01. AUGUST / WEDNESDAY / 21:00

Minčeta Fort

01. AUGUST / WEDNESDAY / 23:00

Minčeta Fort

02. AUGUST / THURSDAY / 21:00

Minčeta Fort

02. AUGUST / THURSDAY / 23:00

Minčeta Fort

03. AUGUST / FRIDAY / 21:00

Minčeta Fort

03. AUGUST / FRIDAY / 23:00

Minčeta Fort
Krešimir Špicer Vocal Master Class Final Concert
Music
01. AUGUST / WEDNESDAY / 21:30

Bunić Caboga Summer Villa
Inside Out
Performances
04. AUGUST / SATURDAY / 21:30

Great Onofrio Fountain

04. AUGUST / SATURDAY / 23:00

Orsula Park Amphitheater
Anton P. Chekhov: UNCLE VANYA
Theatre
05. AUGUST / SUNDAY / 21:30

Gradac Park
DANIIL TRIFONOV, piano
Music
06. AUGUST / MONDAY / 21:30

Rector's Palace Atrium
Maria João Pires Piano Workshop Final Concert
Music
07. AUGUST / TUESDAY / 21:30

Rector's Palace Atrium
Public in Private / Clément Layes: TITLE
Performances
07. AUGUST / TUESDAY / 21:30

Minčeta Fort
Andreas Scholl, countertenor | Ensemble 1700
Performances
08. AUGUST / WEDNESDAY / 21:30

Rector's Palace Atrium
DEATH AND THE DERVISH
Theatre
09. AUGUST / THURSDAY / 21:30

Gradac Park

10. AUGUST / FRIDAY / 21:30

Gradac Park
Dubrovnik Symphony Orchestra | Tibor Bogányi, Conductor | Marin Maras, violin
Music
11. AUGUST / SATURDAY / 21:30

Rector's Palace Atrium
CORRECTING RHYTHM
Performances
12. AUGUST / SUNDAY / 21:30

Gruž Harbour Warehouse

13. AUGUST / MONDAY / 21:30

Gruž Harbour Warehouse
Andreas Ottensamer, clarinet | José Gallardo, piano
Music
14. AUGUST / TUESDAY / 21:30

Rector's Palace Atrium
LERO Student Theatre | Marin Držić: Small Bouquets and Pearls
Theatre
15. AUGUST / WEDNESDAY / 21:30

Lazareti

17. AUGUST / FRIDAY / 21:30

Lazareti
Guitarrismo
Music
16. AUGUST / THURSDAY / 21:30

Rector's Palace Atrium
Ranko Marinković: UNDER THE BALCONIES
Premiere
18. AUGUST / SATURDAY / 21:30

University of Dubrovnik Campus Park

19. AUGUST / SUNDAY / 21:30

University of Dubrovnik Campus Park

20. AUGUST / MONDAY / 21:30

University of Dubrovnik Campus Park

21. AUGUST / TUESDAY / 21:30

University of Dubrovnik Campus Park

22. AUGUST / WEDNESDAY / 21:30

University of Dubrovnik Campus Park
Dubrovnik in tune, sailing - concert
Music
19. AUGUST / SUNDAY / 21:30

Rector's Palace Atrium
Mate Matišić: MEN OF WAX
Theatre
23. AUGUST / THURSDAY / 21:30

Gradac Park

24. AUGUST / FRIDAY / 21:30

Gradac Park
Croatian Radio and Television Symphony Orchestra | Daniele Rustioni, Conductor | Cameron Carpenter, organ
Music / CLOSING CONCERT
25. AUGUST / SATURDAY / 22:00

In front of St. Blaise's Church
---
Contact
DUBROVNIK SUMMER FESTIVAL
Od Sigurate 1, 20 000 Dubrovnik
Tel. +385 (0)20 326 100, Fax +385 (0)20 326 116
This email address is being protected from spambots. You need JavaScript enabled to view it., Dubrovnik Summer Festival