Dubrovnik Summer Festival
Dubrovnik Summer Festival is recognised as the main summer event in Dubrovnik, and as one of Europe's five most distinguished cultural festivals.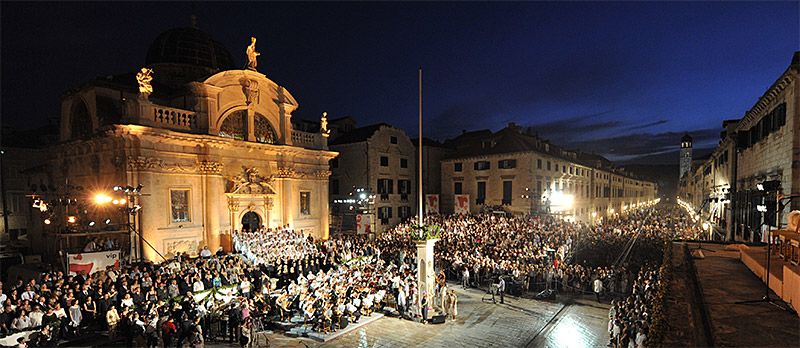 The annual Dubrovnik Summer Festival is held at various open-air locations in and around Old Town Dubrovnik, featuring performances of music, theatre and dance and other cultural events.
There are several exciting events taking place in Dubrovnik this summer.
Komedija Theatre's latest production, Velo Misto, directed by Marina Pejnović, will be performed on the Revelin Fort terrace on August 22nd, 23rd, and 24th. The Croatian National Theatre of Split will also be showcasing their hit ballet production of The Great Gatsby, directed and choreographed by Leo Mujić, on August 2nd and 3rd at Revelin Fort.
Music enthusiasts will also have plenty to look forward to as part of the 74th Dubrovnik Summer Festival. You can enjoy performances by award-winning guitarist Krešimir Bedek and the trio composed of Latica Anić, Krešimir Starčević, and Marco Graziani at the Rector's Palace Atrium. The Dubrovnik Symphony Orchestra and soprano Josipa Bilić will perform under the baton of Valentin Egel, while German cellist Eckart Runge will perform with pianist Martina Filjak and saxophonist Gordan Tudor. The Rector's Palace concert programme will be concluded with a performance by cellist Kajana Pačko and pianist Danijel Detoni.
And last but not least, make sure to check out the Linđo Folklore Ensemble, an essential part of the Festival's program. You can already purchase tickets for three of their performances online.
Tickets for almost sixty theatrical, musical, ballet and other events at the 70th Dubrovnik Summer Festival are sold online exclusively via www.dubrovnik-festival.hr and www.ulaznice.hr or at the Festival Box Office at the address: Od Sigurate 1 (Old Town Dubrovnik). The box office is open on a daily basis from 9.00 am to 9.00 pm from 1 July.
74th Dubrovnik Summer Festival Programme (2023)
74th Dubrovnik Summer Festival Opening Ceremony
10. July / Monday / 21:00
In front of St. Blaise's Church
---
Exhibition Opening | Fadil Vejzović: Lightness of Youth
11. July / Tuesday / 21:00
Sponza Palace Atrium
---
Premiere | Ivana Lovrić Jović: Look How Lokrum Washes Its Teeth
12. July / Wednesday / 21:30
13. July / Thuesday / 21:30
14. July / Friday / 21:30
---
András Schiff, piano
13. July / Thursday / 21:30
Rector's Palace Atrium
---
Mariza
15. July / Saturday / 21:30
Revelin Fort Terrace
---
Linđo Folklore Ensemble
17. July / Monday / 21:30
Revelin Fort Terrace
05. August / Saturday / 21:30
Revelin Fort Terrace
14. August / Monday / 21:30
Revelin Fort Terrace
19. August / Saturday / 20:30
Revelin Fort Terrace
---
Zagreb Soloists | Marija Pavlović, clarinet
18. July / Tuesday / 21:30
Rector's Palace Atrium
---
Lovers
18. July / Tuesday / 21:30
In front of St. Jacob's Church
19. July / Wednesday / 21:30
In front of St. Jacob's Church
20. July / Thursday / 21:30
In front of St. Jacob's Church
---
#synergy Festival Tour
19. July / Wednesday / 21:30
Rector's Palace Atrium - free entrance
20. July / Thursday / 21:30
Rector's Palace Atrium - free entrance
---
Premiere | Grzegorz Jarzyna, Roman Pawłowski: Twelfth Night
21. July / Friday / 21:30
Lovrjenac Fort
22. July / Saturday / 21:30
Lovrjenac Fort
23. July / Sunday / 21:30
Lovrjenac Fort
24. July / Monday / 21:30
Lovrjenac Fort
25. July / Tuesday / 21:30
Lovrjenac Fort
---
Janoska Ensemble
24. July / Monday / 21:30
Rector's Palace Atrium
---
70th Pula Film Festival | Grand Golden Arena Award Winner
26. July / Wednesday / 21:30
Jadran Open-air Cinema
---
Krešimir Bedek, guitar
26. July / Wednesday / 21:30
Rector's Palace Atrium
---
Federico García Lorca: Blood Wedding
27. July / Thursday / 21:30
28. July / Friday / 21:30
29. July / Saturday / 21:30
---
Marko Mimica, bass-baritone | Marcos Madrigal, piano
28. July / Friday / 21:30
Rector's Palace Atrium
---
Zvjezdan Ružić, piano
30. July / Sunday / 21:30
Square under the Revelin fort - free entrance
---
Nicolas Altstaedt, cello
31. July / Monday / 21:30
Rector's Palace Atrium
---
Exhibition Opening | Romana Milutin Fabris: Dubrovnik Rhapsody
01. August / Tuesday / 21:00
Sponza Palace Atrium - free entrance
---
Dubrovnik Symphony Orchestra | Pavle Zajcev, Conductor | Nicolas Altstaedt, cello
02. August / Wednesday / 21:00
Rector's Palace Atrium
---
Ballet of Croatian National Theatre of Split | Francis Scott Fitzgerald: The Great Gatsby
02. August / Wednesday / 22:00
Revelin Fort Terrace
03. August / Thursday / 21:30
Revelin Fort Terrace
---
Aylen Pritchin, violin | Maxim Emelyanychev, piano
04. August / Friday / 21:30
Rector's Palace Atrium
---
Mara & Kata
05. August / Saturday / 21:30
St Mary's Convent Courtyard
06. August / Sunday / 21:30
St Mary's Convent Courtyard
07. August / Monday / 20:30
St Mary's Convent Courtyard
07. August / Monday / 22:30
St Mary's Convent Courtyard
---
Latica Anić, cello | Krešimir Starčević, piano | Marco Graziani, violin
07. August / Monday / 21:30
Rector's Palace Atrium
---
Sunčana Škrinjarić: The Enchanted Forest
08. August / Tuesday / 20:30
Lovrjenac Fort
09. August / Wednesday / 20:30
Lovrjenac Fort
10. August / Thursday / 20:30
Lovrjenac Fort
11. August / Friday / 20:30
Lovrjenac Fort
---
Kristóf Baráti & Mendelssohn Chamber Orchestra
10. August / Thursday / 21:30
Rector's Palace Atrium
---
Eckart Runge, cello | Martina Filjak, piano | Gordan Tudor, saxophone
12. August / Saturday / 21:30
Rector's Palace Atrium
---
Premiere | Masks
12. August / Saturday / 21:30
Bokar Fort
13. August / Sunday / 21:30
Bokar Fort
---
Lero Student Theatre | Mostly sunny
14. August / Monday / 21:30
Lazareti
15. August / Tuesday / 21:30
Lazareti
---
Martyna Pastuszka & {oh!} Orkiestra Historyczna
16. August / Wednesday / 21:30
Rector's Palace Atrium
---
Premiere | The Wistful Women of Ragusa
17. August / Thursday / 21:30
18. August / Friday / 21:30
19. August / Saturday / 22:00
20. August / Sunday / 21:30
21. August / Monday / 21:30
---
Camerata Royal Concertgebouw Orchestra
18. August / Friday / 21:30
Rector's Palace Atrium
---
Dubrovnik Symphony Orchestra | Valentin Egel, Conductor | Josipa Bilić, soprano
21. August / Monday / 21:30
In front of Cathedral
---
Zagreb City Theatre Komedija | Miljenko Smoje: Velo misto
22. August / Tuesday / 21:00
Revelin Fort Terrace
23. August / Wednesday / 21:00
Revelin Fort Terrace
24. August / Thursday / 21:00
Revelin Fort Terrace
---
Kajana Pačko, cello | Danijel Detoni, piano
23. August / Wednesday / 21:30
Rector's Palace Atrium
---
Croatian Radio and Television Symphony Orchestra & Choir | Tomislav Fačini, Conductor | Darija Auguštan, soprano | Franko Klisović, countertenor | Roko Radovan, tenor | Leon Košavić, baritone
25. August / Friday / 22:00
In front of Cathedral
---
---
Contact
DUBROVNIK SUMMER FESTIVAL
Od Sigurate 1, 20 000 Dubrovnik
Tel. +385 (0)20 326 100, Fax +385 (0)20 326 116
This email address is being protected from spambots. You need JavaScript enabled to view it., Dubrovnik Summer Festival
---