Dubrovnik Summer Festival
Dubrovnik Summer Festival is recognised as the main summer event in Dubrovnik, and as one of Europe's five most distinguished cultural festivals.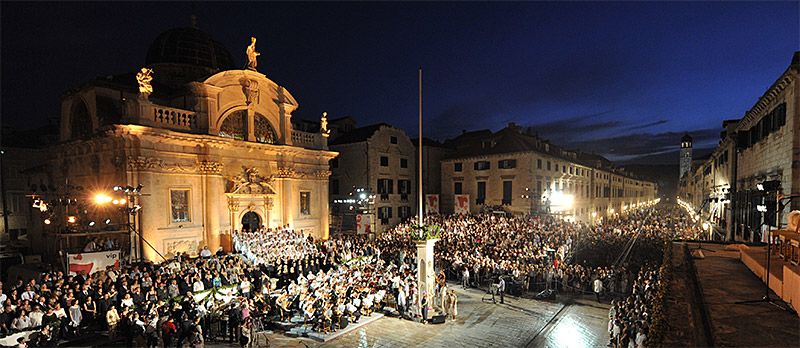 The annual Dubrovnik Summer Festival is held at various open-air locations in and around Old Town Dubrovnik, featuring performances of music, theatre and dance and other cultural events.
The programme of the 70 Dubrovnik Summer Festival, which traditionally takes place from 10 July to 25 August in around twenty site specific venues of Dubrovnik. The first premiere title of the Festival in its anniversary year will be one of the most famous tragedies of the great William Shakespeare, Hamlet, directed by Paolo Magelli.
The music programme of the 70th Dubrovnik Summer Festival features well known names and exiting programmes, opening on open-air festival stage in front of St Blaise's Church on 11 July 2019 with the big gala concert of the Lower Saxon State Orchestra from Hanover and the Ivan Goran Kovačić Academic Choir with distinguished soloists – soprano Evelin Novak, mezzo-soprano Khatuna Mikaberidze, tenor Tomislav Mužek and bass-baritone Tobias Schabel, under the baton of maestro Ivan Repušić.
Tickets for almost sixty theatrical, musical, ballet and other events at the 70th Dubrovnik Summer Festival are sold online exclusively via www.dubrovnik-festival.hr and www.ulaznice.hr or at the Festival Box Office at the address: Od Sigurate 1 (Old Town Dubrovnik). The box office is open on a daily basis from 9.00 am to 9.00 pm from 1 July.
Programme | 70. Dubrovnik Summer Festival
FESTIVAL OPENING CEREMONY
10. JULY / WEDNESDAY / 21:00

In front of St. Blaise Church
GALA CONCERT
Music
11. JULY / THURSDAY / 21:30

HANNOVER'S STATE OPERA ORCHESTRA

Ludwig van Beethoven: Symphony No. 9 in D minor, Op. 125

In front of St. Blaise Church
KREŠIMIR STRAŽANAC, BASS-BARITONE | DANIJEL DETONI, PIANO
Performances
12. JULY / FRIDAY / 21:30

Franz Schubert: Die Winterreise D 911

Bunić-Kaboga Summer Villa
ROSAS | A LOVE SUPREME
Music / Performances
13. JULY / SATURDAY / 21:30

A Love Supreme

Salva Sanchis, Anne Teresa De Keersmaeker / Rosas

Danced by
José Paulo dos Santos, Bilal El Had/ Robin Haghi (afwisselend/en alternance/alternating), Jason Respilieux, Thomas Vantuycom

Revelin Fort Terrace
ZAGREB SOLOISTS | MARTINA FILJAK, PIANO
Music / Performances
14. JULY / SUNDAY / 21:30

Programme:

Boris Papandopulo: Pintarichiana

Wolfgang Amadeus Mozart: Piano Concerto No. 13 in C Major, K. 415

Pyotr Ilyich Tchaikovsky: Romeo and Juliet Fantasy Overture for strings and piano

Arnold Schoenberg: Verklärte Nacht (Transfigured Night)

Rector's Palace Atrium
R. MARINKOVIĆ: UNDER THE BALCONIES
Performances
Festival Drama Ensemble
Vedrana Klepica / Dario Harjaček after Ranko Marinković's short stories
16. JULY / TUESDAY / 21:30

University of Dubrovnik Campus Park

17. JULY / WEDNESDAY / 21:30

University of Dubrovnik Campus Park

18. JULY / THURSDAY / 21:30

University of Dubrovnik Campus Park
MUSIC OF DUBROVNIK SUMMER VILLAS
Performances / Music
18. JULY / THURSDAY / 21:30

Seven symphonies and chamber music of Luka Sorkočević

Luka Sorkočević was born in Dubrovnik. His most interesting works are the eight symphonies, the violin sonata and the overture trio for the flute, belonging to the transitional period between Baroque and Classicism.

Rector's Palace Atrium
DUBROVNIK SYMPHONY ORCHESTRA | FRANZ ANTON KRAGER, CONDUCTOR | HÅKAN HARDENBERGER, TRUMPET
Performances / Music
20. JULY / SATURDAY / 21:30

Dubrovnik Symphony Orchestra

Aaron Copland: Music for the Movies, Johann Nepomuk Hummel: Trumpet Concerto in E Major, Zoltán Kodály: Summer Evening, Maurice Ravel: Le Tombeau de Couperin, The Lone Star Pageant, arr. Robert Nelson

Rector's Palace Atrium
CROATIAN NATIONAL THEATRE OF ZAGREB: ONE SONG A DAY TAKES MISCHIEF AWAY
Performances
Croatian National Theatre of Zagreb
Vjekoslav Majer - Krešo Golik - Rene Medvešek:
ONE SONG A DAY TAKES MISCHIEF AWAY
Director: Rene Medvešek
21. JULY / SUNDAY / 21:30

Gradac Park

22. JULY / MONDAY / 21:30

Gradac Park
AVISHAI COHEN TRIO
Performances / Music
23. JULY / TUESDAY / 21:30

Over the last two decades International acclaimed bassist, singer, composer and leader Avishai Cohen, has earned his reputation as one of the world's greatest bassists.

Avishai Cohen – bass, vocals, Elchin Shirinov - piano, Noam David – drums

Revelin Fort Terrace
70TH FESTIVAL | LINĐO FOLKLORE ENSEMBLE
Dance
24. JULY / WEDNESDAY / 21:30

Revelin Fort Terrace

03. AUGUST / SATURDAY / 21:30

Revelin Fort Terrace

07. AUGUST / WEDNESDAY / 21:30

Revelin Fort Terrace

13. AUGUST / TUESDAY / 21:30

Revelin Fort Terrace
CROATIAN RADIO AND TELEVISION CHOIR
Performances / Music
25. JULY / THURSDAY / 21:30

Rector's Palace Atrium
W. SHAKESPEARE: HAMLET
Theatre
Festival Drama Ensemble
William Shakespeare: HAMLET
Director: Paolo Magelli
27. JULY / SATURDAY / 21:30

Lovrjenac Fort

28. JULY / SUNDAY / 21:30

Lovrjenac Fort

29. JULY / MONDAY / 21:30

Lovrjenac Fort

30. JULY / TUESDAY / 21:30

Lovrjenac Fort

31. JULY / WEDNESDAY / 21:30

Lovrjenac Fort
ESPERANZA ENSEMBLE
Performances / Music
30. JULY / TUESDAY / 21:30

The ensemble is led by its concert master, Chouchane Siranossian and its repertoire covers everything from Baroque to contemporary music.

Rector's Palace Atrium
IL VOLO
Performances / Music
01. AUGUST / THURSDAY / 21:30

IL VOLO is the Italian trio acclaimed by international audiences and millions of discs sold.

In front of Cathedral
ZAGREB QUARTET | ANA VIDOVIĆ, GUITAR
Performances / Music
02. AUGUST / FRIDAY / 21:30

Zagreb Quartet

Ana Vidović, guitar

Rector's Palace Atrium
MARIINSKY THEATRE: THE FOUR SEASONS
Theatre
Ballet in two acts
Choreographer: Ilija Živoj
Music by: Max Richter based on Vivaldi
04. AUGUST / SUNDAY / 21:30

Gradac Park

05. AUGUST / MONDAY / 21:30

Gradac Park
YUJA WANG, PIANO | ANDREAS OTTENSAMER, CLARINET
Performances / Music
06. AUGUST / TUESDAY / 21:30

Yuja Wang, piano

Andreas Ottensamer, clarinet

Rector's Palace Atrium
ANTOINE DE SAINT-EXUPÉRY: THE LITTLE PRINCE
Performances / Music
Composer and Conductor: Ivan Josip Skender
Director: Hrvoje Korbar
The Little Prince is a literary work which has acquired a mythical status and on which dozens of film, theatrical and musical adaptations were based. Performed by an ensemble of ten instrumentalists from Dubrovnik
08. AUGUST / THURSDAY / 20:30

Rector's Palace Atrium

09. AUGUST / FRIDAY / 20:30

Rector's Palace Atrium

10. AUGUST / SATURDAY / 20:30

Rector's Palace Atrium
DUBROVNIK SYMPHONY ORCHESTRA | IVO LIPANOVIĆ, CONDUCTOR | KATARINA KUTNAR, VIOLIN
Performances / Music
12. AUGUST / MONDAY / 21:30

Dubrovnik Symphony Orchestra

Ivo Lipanović, Conductor

Katarina Kutnar, violin

Rector's Palace Atrium
CROATIAN BAROQUE ENSEMBLE | HERVÉ NIQUET
Performances / Music
14. AUGUST / WEDNESDAY / 21:30

Program:

Handel: Concerto grosso in d minor op.3/5

Handel: Concerto for organ and orch. in g minor in D major TWV 53:D5

Handel: Concerto for organ and orch. in F major op.4/4

Telemann: Suite Watermusic " Hamburger Ebb und Fluth" in C major TWV 55:C3

Rector's Palace Atrium
DUŠAN KOVAČEVIĆ: BALKAN SPY
Theatre
16. AUGUST / FRIDAY / 21:30

National Theatre in Belgrade:

Dušan Kovačević: BALKAN SPY

Gradac Park
IVO POGORELIĆ, PIANO
Performances / Music
18. AUGUST / SUNDAY / 21:30

Program:

J.S. Bach: English Suite No. 3 in G minor, BWV808

Beethoven: Piano Sonata No. 11 in B flat major, op.22

Chopin: Barcarolle op.60

Chopin: Prelude in C sharp minor, op.45

Ravel: Gaspard de la Nuit

Rector's Palace Atrium
IVO VOJNOVIĆ: GERANIUM
Premiere / Theatre
Festival Drama Ensemble
Director: Marina Pejnović
20. AUGUST / TUESDAY / 21:30

Art School Park

21. AUGUST / WEDNESDAY / 21:30

Art School Park

22. AUGUST / THURSDAY / 21:30

Art School Park

23. AUGUST / FRIDAY / 21:30

Art School Park

24. AUGUST / SATURDAY / 21:30

Art School Park
LUKA ŠULIĆ, CELLO | ALJOŠA JURINIĆ, PIANO
Performances / Music
22. AUGUST / THURSDAY / 21:30

Program:

Robert Schumann: Adagio & Allegro

Johannes Brahms: Sonata E mol

Samuel Barber: Cello sonata

Astor Piazzolla: Le Grand Tango

Rector's Palace Atrium
CLOSING CONCERT | CROATIAN RADIO AND TELEVISION SYMPHONY ORCHESTRA | ENRICO DINDO, CONDUCTOR | SIMONE RUBINO, PERCUSSION
Performances / Music
25. AUGUST / SUNDAY / 22:00

CLOSING CONCERT

Croatian Radio and Television Symphony Orchestra

Enrico Dindo, Conductor

Simone Rubino, percussion

In front of St. Blaise's Church
---
Contact
DUBROVNIK SUMMER FESTIVAL
Od Sigurate 1, 20 000 Dubrovnik
Tel. +385 (0)20 326 100, Fax +385 (0)20 326 116
This email address is being protected from spambots. You need JavaScript enabled to view it., Dubrovnik Summer Festival
---